News
An in-Depth Guide on Wallets and Billfolds for Modern Men | 2022
As the world is getting digital, where everything is on your fingertips, there are some vintage statement pieces that are still cherished. Leather wallets and billfolds are among these old-world items that can have a significant impact on first impressions. Like your clothing, your wallet serves a style statement for your unique personality and should be added to your manly wardrobe. 
There are many things to see while buying a wallet or billfold because it's an object you use and reuse daily. Make sure the one you buy will be functional. 
Here I will delve into the history of wallets and billfolds, their differences, types, various styles, how they're made, the quality trademarks, and some recommendations.
A brief history of billfolds and wallets
Wallets have been here around for centuries. They are derived from Ancient Greek when gentlemen used to carry a pack made from the hides of cows or horses stocked with survival equipment and food. Someone initially associated wallets with poor men who couldn't afford a handy larder on their trips.
As time passes, a leather coin pouch secured with a drawstring was introduced to keep silvers. In 1690, when paper money was introduced, flat pouches (first wallets) were created to keep the money and other cards. Following the tradition, the modern version known as slim wallets came into fashion. 
Wallets were used to carry different things in different regions. In Spain, a wallet was a carrying case for smokers to keep flint, steel, rolling papers, and yesca. 
When was Billfold invented?
This modern wallet dates back to the late 1600s when paper currency was invented. A basic version of the bifold contained the main currency pocket, and a small pocket for identification coin was introduced. In the 1950s, when credit cards were popularized, a refined version of billfold wallets hit the market you are now familiar with. It contains multiple card slots. 
What is a billfold?
Billfold, also referred to as bi-fold, is one of the most commonly used wallets globally, usually made of leather and has myriad slots to hold bills, cards, and receipts. The name bi-fold or Billfold is initiated from its basic design as it folds down the middle once over. Billfold leather wallets are the most vintage type wallets and versatile enough to add value to a gentleman's personality. 
They are often kept in the back pocket, and due to their multiple slots and outer zipper closure, they have become notorious for being overstuffed. 
Where to buy billfold wallets?
You can buy some classy billfold wallets from your favorite brands like Miajee's  and add a sleek and masculine look to your personality. 
Check out these amazing men wallets with coin pouches available at Miajee's.
What's the difference between a billfold and a wallet?
A wallet is a small but valued life tool, often flat and used daily to carry around credit cards, cash, coins, and most personal data. From a full-sized to a smaller, card-focused, minimalist design, wallets can be found in multiple options. Whereas, Billfold is a type of wallet that features a small folding sleeve or case with many slots for paper currencies, cards, and pictures. 
Wallets are made of different materials and can be used by every gentleman with varying style preferences. In comparison, billfolds are close-knitted with professional travelers and available in two types in the market, such as bi-fold and tri-fold. 
What are the other ‌wallets?
Imagine the scenario when you are dining at a five-star restaurant and whipping out your wallet to pay the bill; you don't want to be fumbling through the wallet to find your credit card. If you don't want to face that situation, you will need to be picky while choosing a wallet. 
For this, you need to understand different ‌wallets so you can buy an incredibly stylish and practical one for everyday use. 
Let's check out some popular types of wallets that you might come across in the market. 
Apart from billfolds, the new slim wallets are now taking hold in the marketplace. Most of the men cherish smart wallets because of their low-profile, stylish body. These wallets are incredibly compact and perfect for gentlemen who want their items organized and safe in a secured case. Slim wallets have fantastic functionality, and incredible capacity holds to keep wallets to a minimum. Smart wallets are typically made from leather and well-crafted for traditional billfolds with their sleek shape.
For men who prefer a minimalist lifestyle, money clip wallets are ideal for them. Money clip wallets keep the stuff minimum and resemble simplicity incarnate. These wallets are ideal for suit's jacket and formal pants pockets and the handiest way to carry a few cards and bills around. Money clip wallets are available in different fabrics, such as classic leather and steel and many aesthetic designs. To find some good options, just explore the online leather wallets collection at your favorite store and pick from a vast array of choices.
Front pocket wallets are a bit thinner than a classic bifold wallet designed to be placed in the front pocket. These wallets have a few compartments for cards and cash that will prevent you from fumbling while making a quick payment.
Coin wallets with card slots
Many of us face slipping of coins from the wallet, but leather craftsmanship has made things easier by crafting coin wallets. These wallets have a separate slot for cards and coins and tend to be a bit more on the bulkier side than bifold or money clip wallets. You can easily access your cards, coins, or cash and be more organized with your stuff.
Cardholder wallets are mainly crafted for business cards. These wallets have a functional business card holder and separate card sleeves with minimalist design. Today, many gentlemen rely on this incredibly slim wallet for regular use as these wallets save them from fumbling over cash, ensuring there are no receipts in the way. 
Sports wallets are crafted for functional and rugged use, such as while exercising, sweating in the gym, or running. These wallets are ideal for fitness and sports enthusiasts who need to keep their stuff secured with a sturdy hold capacity. Sports wallets are often made from synthetic, water-resistant, heat, or crack-resistant capabilities. 
Phone wallets are a relatively new creation to secure your smartphones. These wallets open the same as billfolds or coat wallets, have a spot for a few card slots, Id cards, paper currency on the one side, and a spot for the smartphone. While some phone wallets have an added slot for a pen or stylus.
If you are a long-haul type of wanderer or moving to attend a special event, travel wallets are perfect. These wallets are designed to carry more stuff like a checkbook, passport, credit cards, and currency of choice, necessary for travelers. Travel wallets are aesthetically stitched to keep content in the hold, and safe with a waterproof and tamper-resistant fabric. Travel wallets are undoubtedly a fundamental part of a traveler's kit.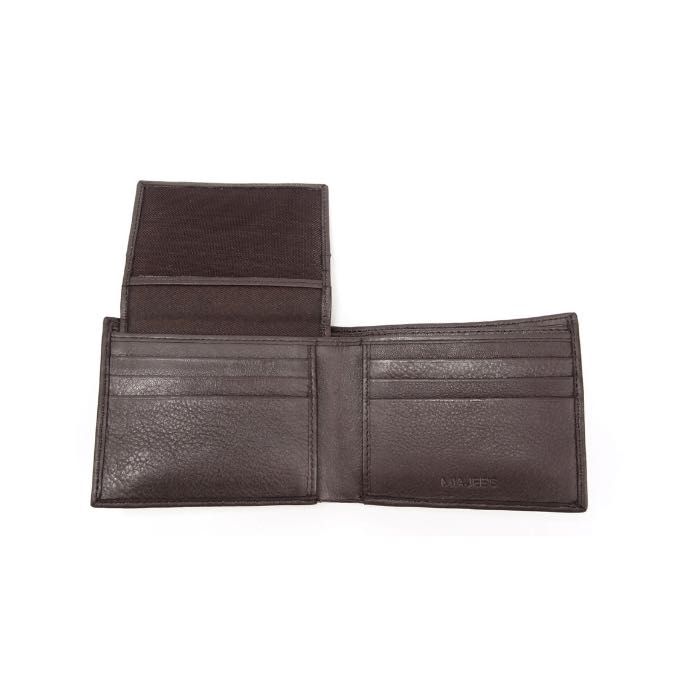 RFID wallets were designed after the introduction of RFID technology, which means Radio Frequency Identification. This technology uses an electromagnetic field to detect and track objects integrated with the system via digital tags. To keep your credit cards safe against skimmers, RFID wallets came to rescue. These wallets are crafted with a layer made from carbon fiber or metal to block the electromagnetic fields from reaching your cards. This protective layer takes the incoming electromagnetic waves from a scammer's RFID scanner and blocks the entry through the shield.
Things to Consider When Buying A Wallet or a Billfold 
When it comes to acquiring a perfect wallet or a billfold, it is advisable to invest time in finding all its craftsmanship hallmarks. Your wallet or Billfold should have to be a proper blend of modern style, vintage craftsmanship, and durability. From the fabric, stitching, turnover (bend), and the pleated corners, there are a lot of things to scrutinize. 
So, which wallet will be best for a man? Well, it will be determined by the intent of its usage and your unique personality.
Here are some craftsmanship trademarks that will help you buy the best man's wallet or a billfold.
Before buying any wallet or billfolds, make sure to check the type of leather. Don't be fooled with the stamp "Genuine leather," go through the details. An Open Pore Aniline-Dyed Leather, caviar leather finish, or fine-grained calf leather can be good options. Pick something that goes a long way and makes you feel confident whipping out for everyday use. Make sure that your billfolds speak volumes about you.
Watch out the interiors that exclusively use leather
Another good indicator of a great-quality wallet or Billfold is to look for the interior lining and details that exclusively use leather. Many manufacturers cut corners by using a less expensive fabric or poly-blend. Before making any investment, make sure that the materials used on the exterior are the same as inside the wallet to create the divider or lining.
Look at the sewn and polished edges
Today, many wallets in the market are cut once folded and don't have double sewn edges. These wallets are not the most elegant solution. Higher-quality wallets often have a double fold on the lining, the shell, and neatly go to the edges. The leather at the edges has to be thinned before it is folded and painted to be rough and scratchy to make the wallet slim and flat. This is the highest measurement of skilled craftsmanship.
Rounded corners and sewn card slots 
Another craftsmanship hallmark of a premium quality wallet or Billfold is the variety in designs of card slots. There are three designs of the card slots, including cut card slots, a sewn card slot, and a liner. Each slot should be designed with proper finishing, genuine leather, sewn edges, and lined in a way that cards can be easily slid in and out. Whereas, rounded corners make the wallets more sophisticated and tremendously minimize the wear of the edges.
How long your wallets and billfolds look good is a matter of concern. The wallet's longevity is the key hallmark of quality that offers enduring value and lasts a lifetime if cared properly. The choice of leather and manufacturing techniques can play a vital role in the durability of a wallet.
Those traditional plain wallets in black and brown colors are the stories of the past. Now wallets and billfolds have been evolved into a fashion statement with more functionality. So, when you are buying a new wallet, see the details like contrasting interior colors, contrast stitching, monogramming, exotic leathers, etc. that add interest and class. 
What kind of wallet should a man carry?
Most men like cardholder wallets and vintage bi-fold or billfolds can hold all the essential stuff without being overstuffed. As the world is moving digital, a cardholder, and minimalist style, slim wallets are the need of the century.
But, at the end of the day, it solely depends on personal preference and everyday usage.
How do you organize your wallet?
An organized wallet looks more elegant and leaves a good impression about your personality. Organizing and optimizing your wallet can keep them in shape and primed for shopping.
Simplicity is all about minimalism. If you carry only one credit and debit card instead of five or six, it will reduce the hassle of blocking those cards if somehow you lose your wallet.
Clean out the receipts once a week
Keep the receipts in your wallet to avoid any dispute and charges you feel are not legal. But keeping them forever in your wallet can make the wallet overstuffed. Once a week, clean out your receipts and keep them in a safe space.
Remove all $1s from your wallet and save like coins
If you have many $1s in your wallet you receive in change, don't clip them inside a money clip. Your money clip wallet should hold only 3 things: bank card, credit card, and cash (no $1s). This habit will keep your wallet to a minimalistic style and also helps you save from further spending on small expenses.
How to take care of your wallet?
Keep your wallet simple and avoid overstuffing to enhance its life. Just carry everyday essentials like your debit card, cash, credit card, ID, important receipts, or pictures of loved ones. Remove all the expired membership cards, old business cards, and gift cards you don't use anymore. Keep your wallet away from water, extended exposure to sunlight, and hard chemicals. If it gets wet, wipe gently with a soft cloth.
The Final Note
As a gentleman, you should be a little considerate while purchasing your new wallet. If you like billfolds, go through all the quality hallmarks and pick a unique design and color that complements your personality. Also, follow a minimalistic approach while keeping the essentials. It will leave a graceful impression about your personality and make you stand out in the crowd.